In Memoriam: Otis Booth Jr.
Founder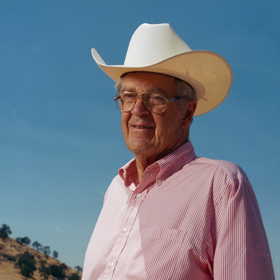 Franklin Otis Booth Jr. was a father, husband, businessman, philanthropist, avid outdoorsman and rancher. Otis was the great grandson of General Harrison Gray Otis, founder of The Los Angeles Times. He served on the Board of Trustees of the Natural History Museum of Los Angeles, the Smithsonian National Air & Space Museum, Planned Parenthood of Los Angeles, Harvard-Westlake School, Good Samaritan Hospital, and the Board of Directors of the Tejon Ranch Company and the Clipper Fund.
+ READ MORE
Otis was born and raised in Pasadena, California. During the early years of World War II, he attended Polytechnic School, Flintridge Preparatory School and the Webb School. At age 16 he entered the California Institute of Technology, graduating with the Class of 1944. He served in the U.S. Navy as a 1st Lieutenant during the war. After the war he attended Stanford Graduate School of Business before returning to Southern California to start a long career with the Times Mirror Company, retiring in 1972.
After Times Mirror, Otis owned several small companies before launching his second career as a cattle rancher and citrus farmer. Over the decades, Booth Ranches has grown significantly and became his personal legacy and passion. Family owned and operated, his premium brand, Booth Ranches, is shipped throughout the world. Otis worked side by side with his daughter Loren Booth and together they built the company's strong foundation before his passing. At his 84th birthday celebration in Sun Valley, surrounded by his family, he said, "My life, as exemplified by all of you here tonight, has been wonderful beyond all my wildest dreams!"
- READ LESS